New Website Launch: Edward's Lawn & Home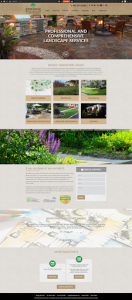 Today we're excited to add another great business to the Adventure Web family: Edward's Lawn & Home. As one of Maryland's premier landscaping companies, Edward's Lawn & Home has been providing comprehensive landscape design, installation, and maintenance services since 2007. If you're looking for residential or commercial lawn care, hardscape construction, landscape maintenance or design, Edward's Lawn & home are the people to call.
Landscaping Benefits
A professional landscaper can provide your yard and home with significant benefits. From increasing your property value, to providing an attractive, functional, and environmentally friendly space–building a better landscape is critical to improving your home's livability. While you might think that it's cheaper to do your own landscaping, a professional landscaper like Edward's Lawn & Home ensures you receive quality care and careful planning.
Services Rendered
Edward's Lawn & Home provides residential and commercial landscaping services throughout the greater Maryland region. And with Fall just starting to settle in, there's never been a better time to get started on your next project. Edward's Lawn & Home are lawn care, turf rejuvenation and fertilization experts. They can also install new hardscapes, patios, outdoor kitchens, fireplaces, and outdoor lighting fixtures. Worried about winter weather? Edward's Lawn & Home has you covered, and can help you get your business up and running again as soon as possible.
Looking for a website of your own? We can help!
For more tips on how to optimize your web content, follow our blog. Adventure Web Interactive offers expert marketing solutions, including blog and copywriting and social media management. Take the stress of planning, posting, and plotting off of your team and contact us online or by giving us a call at (410) 788-7007. To see more information about our team and services, follow us on Facebook, Twitter, Google+, YouTube, and LinkedIn.