Adventure Web Productions Launches New Site: APWU Health Plan
The American Postal Workers Union (APWU) Health Plan is a National Preferred Provider Organization (PPO) located in Glen Burnie, Maryland. With over 200 employees, APWU Health Plan is committed to serve 141,000 people who are covered. APWU Health Plan offers both a fee-for-service plan with PPOs and a Consumer Driven Health Plan. These two options apply to employees or retirees covered under the Federal Employees Health Benefits (FEHB) Program and support a family's needs including: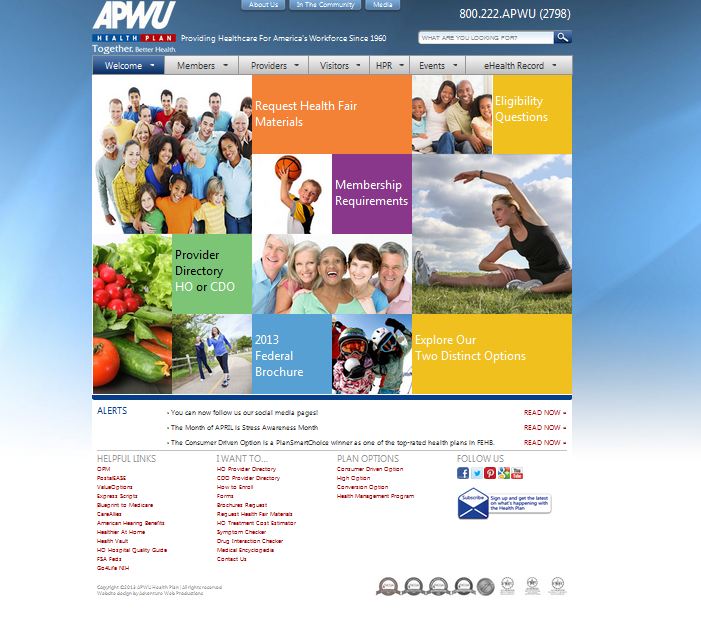 Diabeties, hypertension and weight management programs
100% coverage for in-network preventative care and screenings
Hearing Aid Benefits
No denial for pre-existing conditions
Extensive National PPO Network
APWU Health Plan encourages employees to volunteer and help out the Anne Arundel community by participating in programs the company has selected which include Meals on Wheels, Our Daily Bread, The Maryland Food Bank, and Toys for Tots. The company holds health fairs across the United States to showcase the health plan options and release new information related to the options. A feature on the new website that benefits APWU customers is eHealthRecord, an online tool to access membership details and claims history without waiting for a mailed statement.
View the new APWU Health Plan website at http://www.apwuhp.com.
For more information, follow APWU Health Plan on Facebook, Twitter, Pinterest, and Google+ or call 1-800-222-APWU.
For more information about web development, contact Adventure Web Productions now!