New Website Launch: KCW Engineering Technologies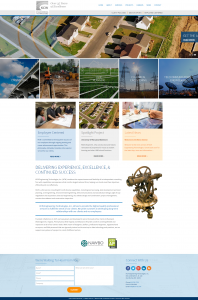 Adventure Web is pleased to announce another new website launch! This week, we've launched the new website for KCW Engineering Technologies, an engineering firm that offers land surveying, civil engineering, land planning, electrical engineering, and telecommunications engineering. This company has been working in the engineering industry for over 35 years and has an established reputation for being ethically-driven and producing results in a timely manner. We're so excited to work with this prestigious company! Read on to learn more about KCW Engineering Technologies.
All About KCW Engineering Technologies
From outside plant design to land development and planning to project management, KCW does it all. The experienced professionals at KCW have worked in every aspect of engineering and design. Because the company is so established and their skills are so diverse, you know that every step of your project will be handled with the utmost care and expertise, down to the very last detail. KCW is especially client focused, splitting their focus between the three most important aspects of any project: timeliness, budget, and quality. KCW works personally with their clients to make sure they deliver high-quality results that meet all the client's expectations.
What's New on the Site
An array of high-quality images are the first thing clients see when landing on the KCW Engineering Technologies homepage. KCW's services are diverse, so each service the company offers is neatly on display in attractive sections right on the homepage. Underneath the services section is another section that features three key parts of the website that capture attention: employee opportunities, featured projects, and the blog. Finally, the company's certifications are visibly displayed at the bottom of the page.
Get a New Website from Adventure Web Interactive
Keep up with our blog every week to learn about the latest social media trends and effective business content strategies.
We offer marketing solutions for you, including blog writing and social media management. That way, you don't have to worry about posting the right stuff at the right time—we can do that for you. Contact us to see what we can do for your business today!
Follow us on Google+, Facebook, Twitter, LinkedIn, and Youtube for more information about website design and social media marketing.