Website Launch: Barnett Fine Art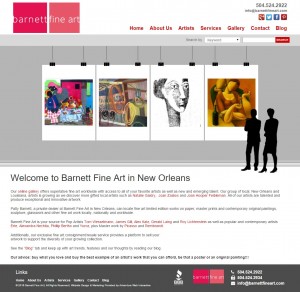 Adventure Web Interactive is pleased to announce the new website for Barnett Fine Art, an art consignment shop located in colorful New Orleans! Patty Barnett established her business in 2003, and it has been a distinctive seller of fine art since then. Barnett Fine Art offers consignment and resale of fine art and has placed two artists in top fine art galleries in the French Quarter of New Orleans. If you are a collector of fine art, you can also receive a valuation of your artwork along with a Letter of Value.
Distinctive Fine Art
Barnett Fine Art is not a "brick and mortar" store. This business model saves on expenses, which means that you will receive favorable prices compared to those in a gallery. Barnett Fine Art has established itself as a distinctive art dealer with high quality works from known artists to exciting new pieces from emerging artists! The new Barnett Fine Art website is easy to navigate, with works displayed by artist with high quality images.
A Stunning Gallery
When you browse through the gallery on the Barnett Fine Art website, you'll find a beautiful collection of works presented in stunning detail on a user-friendly display. Artists are easy to look up by name, and new artists and emerging talents are highlighted on the blog.
Adventure Web Interactive Web Marketing Services
Keep up with our blog every week to learn about the latest social media trends and effective business content strategies.
We offer marketing solutions for you, including blog writing and social media management. That way, you don't have to worry about posting the right stuff at the right time—we can do that for you. Contact us to see what we can do for your business today!
Follow us on Google+, Facebook, Twitter, LinkedIn, and Youtube for more information about website design and social media marketing.