Does your company need an iPhone/iTouch application?
Considering the growing popularity and consumption of the Apple brand as a whole, yet referring to their groundbreaking iPhone/iTouch in particular, wouldn't your business want to capitalize on this barreling wave? Well we have a cost-efficient way for all business owners out there to keep their customers connected and buying while they're on the move; simply go mobile. By creating an iPhone/iTouch application, you are now allowing your customers (more importantly your potential customers who are current iPhone/iTouch users) to access your business, use its products/services and get its information with a simple tap of their finger.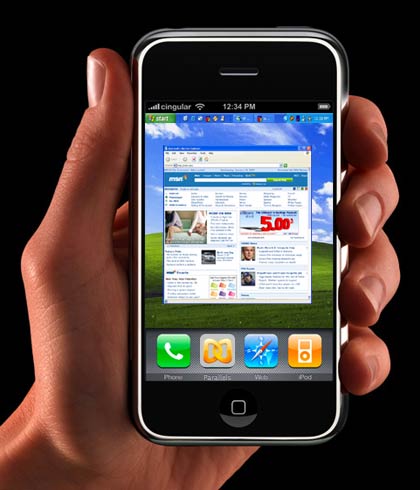 The iPhone/iTouch has created an entire new way of doing business. With over sixty thousand applications, Apple has made it possible for its customers to virtually live their entire purchasing lives through their iPhones/iTouches. Isn't the goal of your business to expand its services/products to reach as many people as possible? And how would it feel to make a profit from simply allowing people to view the products/services your business has to offer? Well your business could combine both of these concepts by going mobile. A business application would allow you to reach the mass interactive Internet and iPhone/iTouch user audience, while generating revenue from the purchase of your application. The purchase of your application is simply the "middle-man" between them and the good stuff; your product/service.
The key to creating a company application is to make it useful. Cool applications are installed, while useful applications are bought. If the application for your business would cut a step out of a customer's routine, save them time or create a feeling of overall lifestyle ease with it's use; you have succeeded. The more often people buy and use your application, the closer it will rise to the Top Applications list. The higher it climbs on the Top Applications list, the more people will know who you are and what your business does!  
The biggest "bright side" of creating your business an iPhone/iTouch application, is spreading the word of who you are and what you offer. You want people to be intrigued and genuinely wonder what it is that your business can do for them. This task can be done by simply arousing their interest with a useful or beneficial application.  
Most importantly, your product or service does not need be related to technology or the Internet. You can benefit from an application with a product as simple as a lighter. Zippos created their free iPhone/iTouch application strictly to increase brand and product awareness. The application shows a single lighter that requires a swipe of your finger to open it up. The flame then sways back and forth as your hand does (of coarse including the Zippos name and logo), which is fun for people to play with. Yet consequently the application lets people know that they are a company who makes "cool" looking, useful lighters or in other words, "who they are and what they do." A company with an interesting and useful application can create a sufficient demand for your specific product/service among a mass audience in an incredibly cost-efficient manner. Remember, your reaching millions of people in a matter of seconds. 
Going mobile has many benefits for all types of businesses that are just beginning to truly be explored. This is an exciting and revolutionary time we are living in, being spearheaded by Apples technology and its revolutionary way of connecting a very large world with a very small phone. For more information on website design and going mobile, visit www.advp.com!