Adventure Web Lands a Spot on Silicon Review's 50 Most Admired Companies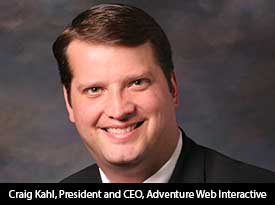 Adventure Web Interactive is proud to announce that we have been named one of Silicon Review's 50 most admired tech companies for the year 2016. The national publication recognized us for our incredible growth and excellence in web design, internet marketing, social media and more.
Manish Pandey, Editor in Chief at Silicon Review Magazine, says that, "The Silicon Review 50 Admired Companies program identifies companies that provide the most innovative and groundbreaking technologies in the field of Business and Technology that are worthy of gaining recognition and admiration on a global platform."
About Silicon Review
As the world's most trusted online and print community for business and technology professionals, Silicon Review is the place where senior level IT buyers and decision-makers come to learn and share their unique experiences involving products, technology, and technology trends. Silicon Review serves as a platform for business leaders and top level executives to share contemporary thoughts and ideas about the industry. At their core, Silicon Review believes in providing a unique perspective into the ingenious solutions that start-ups throughout the country are working on.
Excellence at Adventure Web Interactive
Adventure Web Interactive is proud to be one of Maryland's oldest and largest award-winning web design and internet marketing firms. With over 19 years of experience, we boast an incredibly developed and impressive portfolio of clients, serving over 1800 customers across nearly every industry. Through the use of in-depth industry research, data, and web analytics, we're able to tailor our programs specifically to our client's needs.
"We are honored to be recognized by The Silicon Review Magazine as the one of the 50 Admired Companies this year," said Craig Kahl, CEO at Adventure Web Interactive. "You don't need great exquisite offices overlooking the water to produce great client results you just need great employees."
Stay up to Date with Adventure Web Interactive
Keep up with our blog every week to learn about the latest in social media trends and effective business content strategies–and check out our archive to educate yourself on recent tips and tricks. We offer incredible internet marketing and web design solutions, from blog writing to social media management. Contact us to see what we can do for your business today!
Follow us on Google+, Facebook, Twitter, LinkedIn, and Youtube for more information about website design and social media marketing.