Shumaker's Animal Control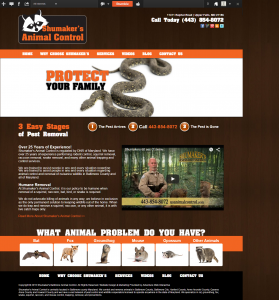 Adventure Web had another successful launch with Shumaker's Animal Control website! Shumaker's Animal Control Service has been offering homeowners a humane alternative to poisoning the critters that have been making themselves at home. Its staff is licensed by the State of Maryland Department of Natural Resources Wildlife Heritage and Nuisance Animal Program. Equipped to handle many animals, this company strives to help homeowners keep their homes and return the captured animals to the wild where they belong.
Shumaker's Animal Control Helps Homeowners Choose a Humane Alternative
Owned by a former Baltimore County Animal Control Officer, this company offers a wide range of services that most government agencies do not. Shumaker's Animal Control offers a permanent solution to animal problems while giving homeowners a humane way to getting rid of the nuisances. It specializes in bat, fox, groundhog, opossum, snake, squirrel, raccoon, and rodent removals. Shumaker's Animal Control agents will find the point of access and make sure to patch up the hole so the homeowners won't have to worry about the animals returning.
Are You Ready to Launch Your New Website with Adventure Web?
Adventure Web performs a wide range of essential tasks for any business, from customized website design and management to social media strategy and marketing. For business in the Baltimore Metropolitan area, Adventure Web is a valuable resource that can help improve performance and gain a wider audience for your business endeavor.
To view a full list of services Adventure Web offers, visit us here! Call us at (410)-358-9892 to learn how to get started or fill out our online contact form here.
Be sure to follow Adventure Web on Facebook  and Twitter!
If you're interested we'll send you a free, no-obligation quote immediately!