New Website Launch: HFS Financial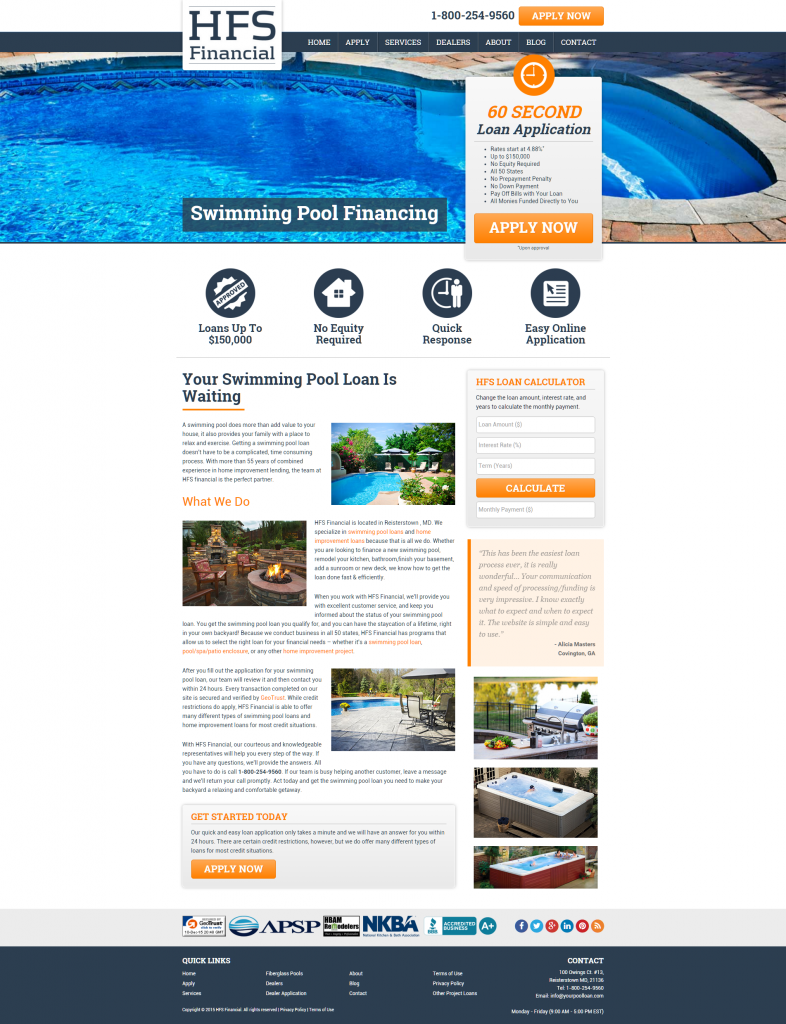 In this week's edition of the Adventure Web website launch blog, we are excited to unveil the website we created for HFS Financial, a financial company that makes it easy to secure a loan for a pool or other home improvement projects.
Pool loans
Are you interested in installing a new pool or upgrading your old one but don't know how you'll ever be able to afford it? HFS Financial is there for you! Their team has over 55 years of combined experience in securing swimming pool loans and will work with you to get the loan you need to complete the project of your dreams. They make the loan application process simple: All you have to do is fill out a secure online form with your basic information and within 24 hours, one of their team members will call you to discuss the specifics of your loan needs.
Home improvement loans
A home improvement loan can be used for just about any home improvement project you can dream up. From remodeling your kitchen to finishing your basement to building a new bathroom, a home improvement loan makes it possible for you to complete the projects that will bring your home into the 21st century. If you are ready to transform your house into a space you truly love, a home improvement loan from HFS Financial can make it possible.
Are You Ready for a New Website from Adventure Web?
Adventure Web performs a wide range of essential tasks for any business, from customized website design and management to social media strategy and marketing. For business in the Baltimore Metropolitan area, Adventure Web is a valuable resource that can help improve performance and gain a wider audience for your business endeavor.
To view a full list of services Adventure Web offers, visit us here! Call us at (410)-358-9892 to learn how to get started or fill out our online contact form here.