New Website Launch: Ground Loop, Inc.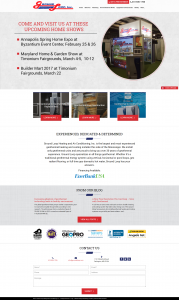 If you're looking for a quality geothermal company to provide you with your heating and cooling needs, then look no further. Ground Loop, Inc is the newest member of the Adventure Web Family. Ground Loop, Inc. has been installing geothermal systems throughout Maryland. If you are interested in learning more about all of their incredible, keep reading!
What They Do
Ground Loop, Inc. offers geothermal solutions that are specially made for your unique needs. Ground Loop custom designs geothermal systems of all sizes. By doing so Ground Loop offers services for any of your residential, commercial, or industrial needs. With professionally trained installers and years of expertise in geothermal systems, Ground Loop provides one of a kind customer service.
Advantages Of Geothermal
Geothermal heating and air conditioning systems provide a variety of benefits for homeowners and businesses alike. From comfort to efficiency, geothermal heating and air conditioning systems allow customers to feel comfortable while at work or at home. From it's cost-effectiveness to it's eco-friendliness, geothermal heating and air conditioning systems are the best decision you can make for your home or business. Ground Loop can provide you exactly what you need to ensure a comfortable home or office!
Follow our blog at Adventure Web to keep up with our latest website launches!
Keep up with our blog every week to learn about the latest social media trends and effective business content strategies–and check out our archive to educate yourself on recent tips and tricks.
We offer marketing solutions for you, including blog writing and social media management. That way, you don't have to worry about posting the right stuff at the right time—we can do that for you while keeping a friendly and consistent relationship with you.  Contact us to see what we can do for your business today!
Follow us on Google+, Facebook, Twitter, LinkedIn, and Youtube for more information about website design and social media marketing.