New Website Launch: Courtland Hearth And Hardware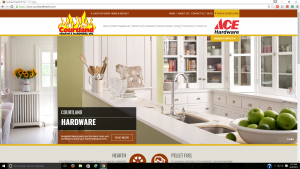 Adventure Web is proud to introduce Courtland Hearth And Hardware to the world wide web! They offer superior collections of stoves, fireplaces, grills, top-notch fuel, and the necessary tools to install them! With four convenient locations in Maryland, including Bel Air, Fallston, Forest Hill, and White Marsh, you won't be wasting gas! With a wide variety of fireplaces, and the essentials for outdoor living, Courtland Hearth and Hardware has residential comfort covered. Warm up your  living room during chilly wintry weather, but don't forget to soak up the summer sun while flipping burgers and sipping lemonade. With a full paint shop, power equipment, housewares, and a large selection of hardware Courtland Hearth and Hardware has it all.
Who Is Courtland Hearth And Hardware?
Starting in 1883, as a flashy, new corner store opened at the corner of Main Street and Courtland Street. One of the earliest records of any hardware stores opening in Bel Air, Courtland Hearth and Hardware was formally known as E.C. Hanway & Bro. Hardware. Fast forward to the future, and the company has grown exponentially, proudly serving clients throughout Harford County, Baltimore County, Cecil County, York County, Anne Arundel County, Howard County, and Frederick County. With over 100 years experience, these guys are your experts on landscaping needs, pellet stoves, outdoor furnishing, fireplaces, and the nuts and bolts of everyday needs. Looking for a new stove? Come to one of their stores, and they'll let you try them out in-person! Turn those knobs. Assess those flames. Feel the heat! Seeing a product in-action helps you make the best consumer decision, and Courtland Hearth and Hardware provides the setting to do so. Make them your number one stop for your homeowner needs!
Understanding The Nuts And Bolts Of Web Design
Adventure Web performs a wide range of essential tasks for any business, from customized website design and management to social media strategy and marketing. For businesses in the Baltimore Metropolitan area, Adventure Web is a valuable resource that can help improve performance and gain a wider audience for your business endeavor.
To view a full list of services Adventure Web offers, visit us here! Call us at (410)-358-9892 to learn how to get started or fill out our online contact form here.