New Website Launch: Historic Oakland
Adventure Web Interactive is proud to announce yet another site launch for — drum roll please — Historic Oakland, a gorgeous event venue on a lavish estate tucked away in the heart of downtown Columbia. We put our hearts and souls into designing and launching this website, and we're so excited that the final product is just as beautiful as the venue itself.
Beauty Meets History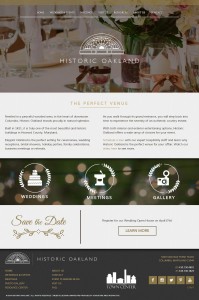 An historic staple of Columbia, Historic Oakland offers a breathtaking combination of stories of Old Columbia and stunning architecture and landscape design. When Jim Rouse was planning Columbia, he was careful to safeguard some of Columbia's historic buildings — of which Historic Oakland was one. In 1811 man by the name of Charles Sterrett Ridgely, a Speaker of Maryland's House of Delegates, built Oakland as a country home. You can read more about the building's history, and how it got to be what it is today, here.
Jump to today and Historic Oakland prides itself on being a top-class venue for weddings, business meetings, and other special occasions. It also serves as the community center for residents of Columbia's Town Center. Magnificently preserved and revitalized history intertwines with modern uses at this one-of-a-kind venue in central Maryland.
If you're planning an event in the near future and would like to learn more about Historic Oakland, click through to their site here, and explore the menu at the top of the page to see everything that the venue has to offer.
Are You Ready for a New Website from Adventure Web?
Adventure Web performs a wide range of essential tasks for any business, from customized website design and management to social media strategy and marketing. For business in the Baltimore Metropolitan area, Adventure Web is a valuable resource that can help improve performance and gain a wider audience for your business endeavor.
To view a full list of services Adventure Web offers, visit us here! Call us at (410)-358-9892 to learn how to get started or fill out our online contact form here.