Common Mistakes That Could Be Screwing up Your Facebook Presence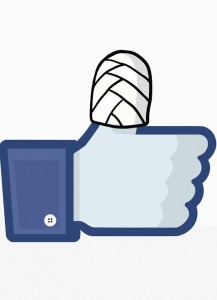 Is your business on Facebook? If not, it should be! According to studies, 97% of all consumers search for local businesses online and 80% of prefer to connect with brands on Facebook. Furthermore, 74% of consumers say they rely on social media to influence their purchasing decisions and 47% of say Facebook is their top choice. But just being on Facebook is not enough. You have to make sure you are properly leveraging your online presence.
Common Mistakes That Could Be Screwing up Your Facebook Presence
As of January 2014, 74% of online adults use social networking sites: 71% of online adults use Facebook, while 19% use Twitter, 17% use Instagram, 21% use Pinterest, and 22% use LinkedIn.
Social media can be a powerful business tool if you know how to use it. There are some businesses that have even built their entire marketing strategy around Facebook. Then there are those businesses that are on Facebook, but don't really know how to leverage the site to benefit their business. Fortunately, that is where we come in!
Incomplete Profiles
Believe it or not, there are many businesses with incomplete Facebook pages. Yikes! Are you one of them? When setting up your business page, make sure to include your business name (should we even have to say this?), a profile picture – most likely your logo, a cover photo, location and contact information, website, and a basic overview of your business. By missing even one of these, your profile will look bare and unprofessional.
If You Build It, They Will Come
Uuuuuum. No they won't. Just having a page is not enough. You must also invite people to like your page via Facebook, email, phone call, or word of mouth. If you expect people to just find your page, they probably won't. You need to first build your following to make your page more accessible.
Posting a Couple Times a Month Is Okay
Actually, it's not. You should be posting AT LEAST once a day to keep your fans interested and coming back for more. "Whenever you feel that you have valuable content to offer or share, you should do it," advises Larry Kim, founder and chief technology officer at WordStream.
Posting Is Enough
Sorry, thanks to Facebook's algorithm, only a very small amount of your fans will actually see your posts in their newsfeed. You need to post articles, pictures, and other relevant information that will drive engagement – likes, shares, and comments – and this drive people to your page and ultimately your website.
Only Post Links to Your Website
Nope. Experts agree that less than half of what you post should be content directly related to your products and/or services. The rest should be fun, engaging content designed to draw fans in. These types of posts will get your engagement levels up.
Check back next week as we explore even more common Facebook mistakes!
Social Media Marketing with Adventure Web Interactive
64% of organizations with social customer service say investing in online communities is very important.
Adventure Web Interactive is here to help you leverage your online presence. We will develop and maintain a custom social media campaign for you that includes Twitter, Facebook, Google+, Pinterest, LinkedIn, YouTube, and more. Our campaigns also include a custom-skinned blog and weekly blog posts, all in an effort to increase brand awareness and, most importantly, SEO.
Call now for a free Social Media evaluation.
If you have any questions about Facebook, or Social Media Marketing, please contact Adventure Web Interactive by calling (410)-788-7007 or by clicking here today! For more information about web development, contact Adventure Web Productions now!