New Website Launch: Calvert Mechanical Solutions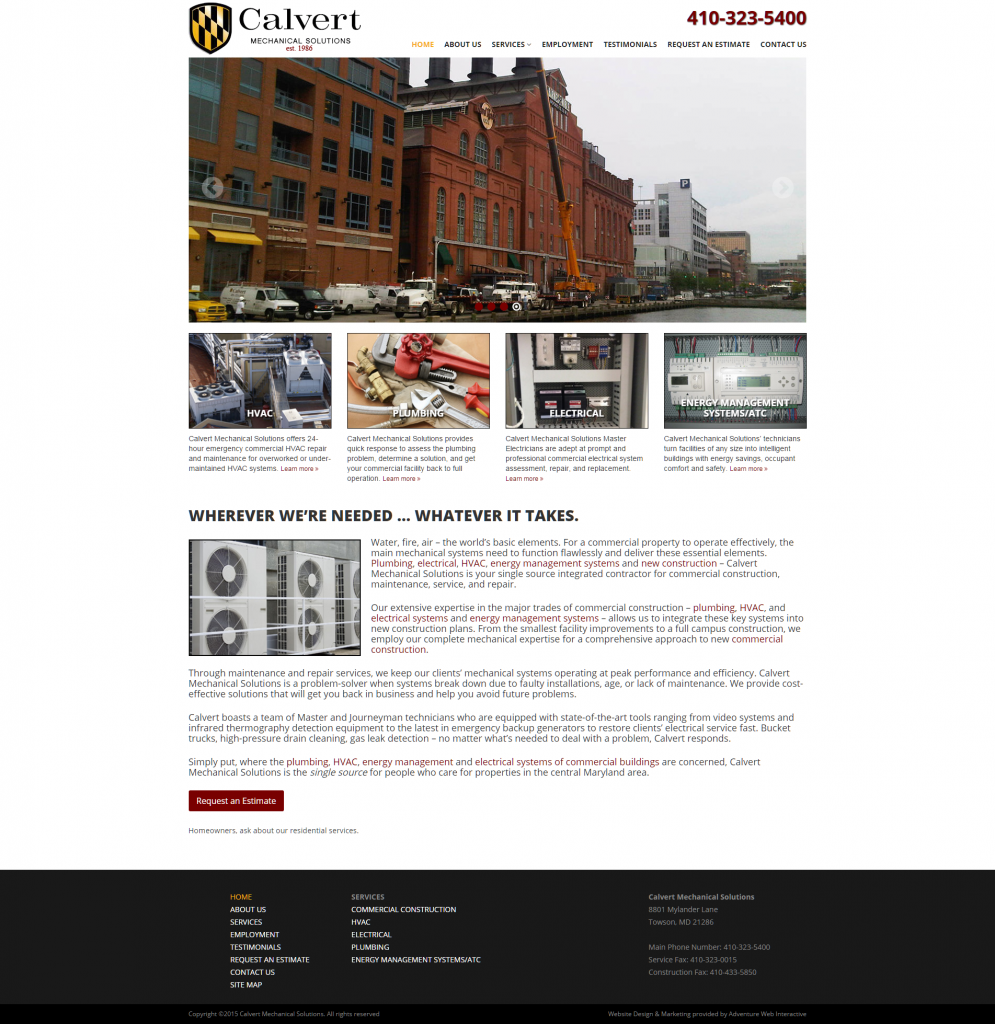 Welcome to another addition of the Adventure Web Website Launch blogs! We would like to congratulate the Adventure Web team on another successful launch of the new Calvert Mechanical Solutions site! Need someone to plan, install, or service your HVAC, plumbing, electrical, or energy management systems for your commercial property? Calvert Mechanical Solutions is for you!
Need a Service?
Calvert Mechanical Solutions is an amazing choice for all of your servicing needs. Calvert can get your business back up and running or help you plan out your business's systems from the start. Their team works with the experts to apply engineering fundamentals and technology to make your mechanical systems run a peak performance for the lifetime of your building. Don't hire someone to do a cheap job when you can hire Calvert and get a lifetime out of their systems! Need some help right away? Calvert Mechanical Solutions offers a 24-hour emergency service to get the job done as soon as it happens. They can also help to prevent these problems with their preventative maintenance services for all of their services. Choose from a basic plan, with four quarterly maintenance inspections, the labor-inclusive plan, that bring your systems up to manufacturer's requirements and covers labor costs, or the full-coverage, with includes four annual inspections with full labor and materials coverage. These services will get your business back to normal and will save you in the long run!
Offering Community Support Since 1986
A part of the community for nearly three decades, Calvert Mechanical Solutions is not only employing local community members, but it is helping to support nonprofits as well. From the Living Classrooms Foundation to the People's Community Health Centers, Calvert is doing its part to give back to the community. Want to build up your skills? Calvert can help there as well! With their apprentice program, you will be able to help grow the team as you further your education in plumbing, sheet metal, HVAC, and electrical installations. Help real employees' complete jobs and work to improve your skills with Calvert!
Don't let your system fail you when you really need it! Call Calvert Mechanical Solutions for more information today!
Are You Ready for a New Website from Adventure Web?
Adventure Web performs a wide range of essential tasks for any business, from customized website design and management to social media strategy and marketing. For business in the Baltimore Metropolitan area, Adventure Web is a valuable resource that can help improve performance and gain a wider audience for your business endeavor.
To view a full list of services Adventure Web offers, visit us here! Call us at (410)-358-9892 to learn how to get started or fill out our online contact form here.