3 Reasons Why Hashtags Matter for Your Social Media Presence
In addition to photos, videos, and an eye-catching logo, hashtags are a great social media accessory for a post on any platform. While the right caption can grab the attention of your target audience, a hashtag can streamline your posts to the perfect target of your CTA. If you're looking to boost your social media presence for the summer, consider these three reasons to add hashtags to your social posts.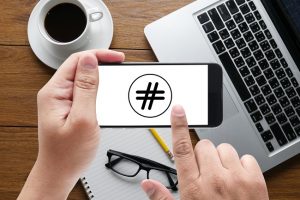 Hashtags Let You Capture Your Perfect Audience
Targeting your perfect audience on social media has never been easier, as hashtags allow you to connect with a specific group of followers with every post. An example of this would be if a bridal boutique was pushing a sale of long-sleeve wedding dresses, then they could tag each post with #longsleeveweddingdress in order to show up in searches for that particular dress using the hashtag and keywords featured in the hashtag.
Hashtags Let You Track Your Competition
Hashtags also enable you to keep tabs on other brands within your industry that may be posting content related to your product. By simply clicking on a hashtag, you have access to other brands selling that product, giving you insight on to what the competition in your industry may be posting.
Hashtags Help to Promote Your Event
As you promote a special sale or event for your business, using a hashtag is a great way to consolidate posts relating to your event so that interested followers can get more information in a single place. This can also be useful for you to track the content of your posts in order to determine which changes or further promotions need to be made for your event.
Learn More About Social Media Marketing With ADVP
Keep up with our blog every day to learn about the latest in social media trends and effective business content strategies–and check out our archive to educate yourself on recent tips and tricks. We offer incredible internet marketing and web design solutions, from blog writing to social media management. Contact us to see what we can do for your business today!
Follow us on Google+, Facebook, Twitter, LinkedIn, and YouTube for more information about website design and social media marketing.